Click Photos To Switch Images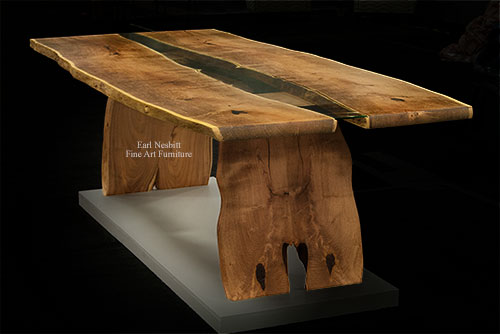 Wood Slab Table
Wood Slab Table
Wood Slab Table
Wood Slab Table
Wood Slab Table
Wood Slab Table
Wood Slab Table
What Sets This Wood Slab Table Apart —
This wood slab table is classic custom furniture that will be the showpiece of any room. Solid mesquite and glass table is called "Through The Heart" because the book matched slabs were cut directly through the center or heart of the tree revealing interesting heart-shaped inclusions. Inset custom fit glass on this live edge table showcases the mesquite trestle base and book-matched slab legs. Original design with hand-carved signature on this wood slab table by Earl Nesbitt. We ship worldwide. Dimensions: 100" x 44" x 30" tall. Seats 8 to 10. Hand-rubbed tung oil based finish. Price: $19,500. We have several shipping and delivery options. Call for quotes. Sold safely through PayPal (click the PayPal link above) or call us directly at
(505-592-9265).
Earl began his career in 1989 studying fine furniture design and construction in New Hope, Pennsylvania. That award-winning apprenticeship program with a master craftsman, as well as the rich history of furniture-making in the New Hope area, including George Nakashima and other artists, contributes to Earl's work as he showcases the beauty of natural wood in each wood slab table. Durability is of the utmost importance: this mesquite and glass table is built to last for generations. This along with limited production ensures its value which has Earl's hand-carved signature and is archived to authenticate his original design and ensure the customer's investment in this live edge table.
Click here to see other wood slab table and live edge table designs by Earl.
He enjoys the process of collaborating with a client; call or email for a quote on your own mesquite and glass table or other custom piece. Earl is honored that this is the fourth consecutive year he has received the "Best of Houzz" award for Customer Satisfaction. He always works very hard to meet or exceed his customer's expectations.
Click below to watch Earl designing and building a live edge table on YouTube
Earl oiling a live edge table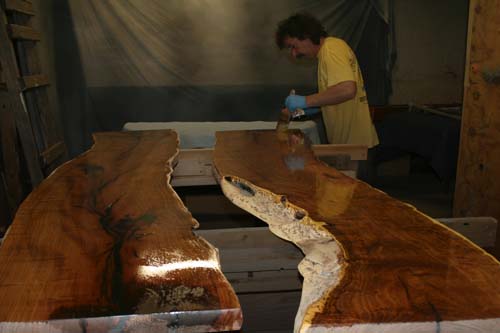 Earl oiling a live edge table