Earl Nesbitt specializes in eye-catching original statement pieces – sculpture in the form of functional fine art furniture. Classically trained with over 30 years professional experience designing and building fine furniture, he combines his original designs with the highest quality materials and the finest craftsmanship to create each piece. Earl trained as a furniture designer in a one year paid award winning apprenticeship with a master craftsman from 1989 to 1990. That early experience as well as the rich history of furniture making in the New Hope area including George Nakashima and others contributes to Earl's work as he showcases the beauty of natural wood in each piece. After his apprenticeship Earl worked for two high end cabinetry/furniture shops. His work from that period included a wide variety of items from Park Avenue penthouse suite renovations, to pews at the Basilica of the Shrine of the Immaculate Conception in Washington, DC, as well as many private and commercial projects. During this time Earl was also designing and building his own custom made furniture. In 1995 he opened his own studio. Earl's style is defined by clean, elegant lines, and an eye for proportions and detail. His custom furniture displays solid wood so that its subtleties can be enjoyed: the way the grain moves through a sculpted piece or the feel of a tabletop or a shaped edge. Throughout his career Earl has enjoyed working with clients on many different styles from contemporary, to Art Deco, to western-style pieces.
Click here to see several designs by Earl that are ready to be shipped now.
We sell Earl's custom made furniture online exclusively through this website and at juried shows throughout the United States. Our studio is open by appointment only. Call for hours. We ship Earl's furniture worldwide. Call
(505-592-9265)
to buy custom made furniture designed and handcrafted by Earl.
Hover over the photos below to read descriptions.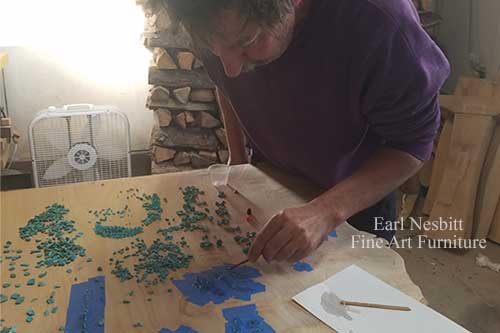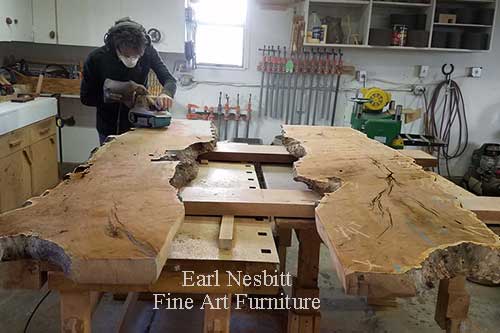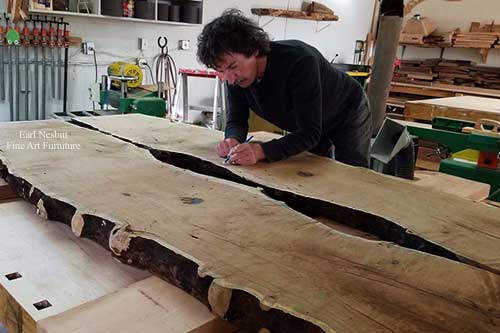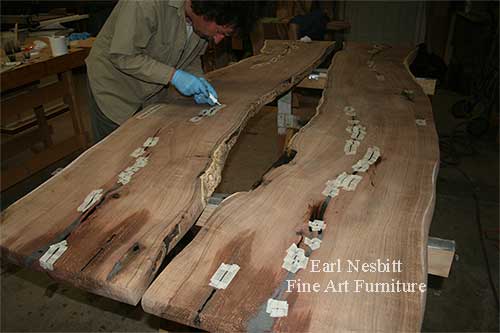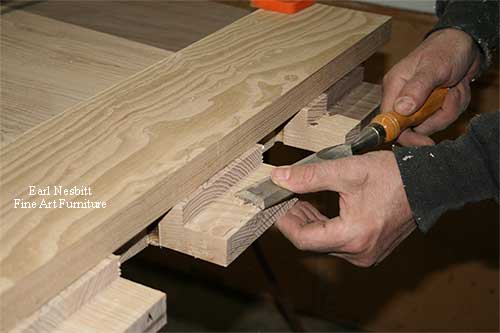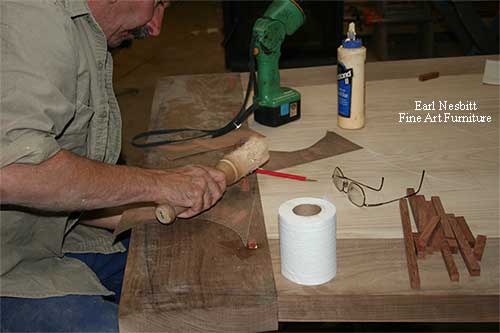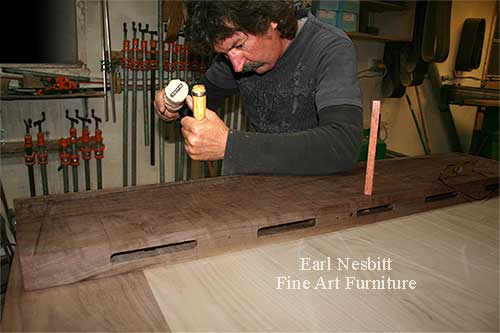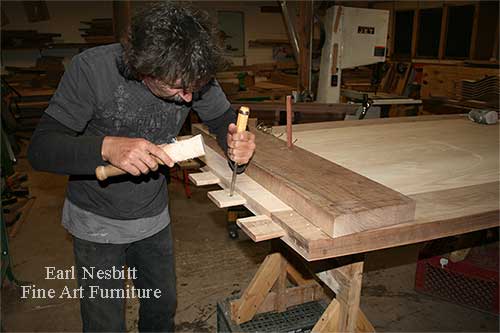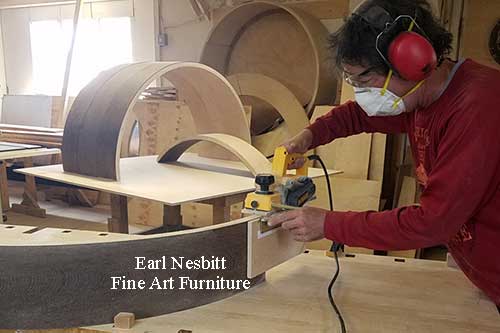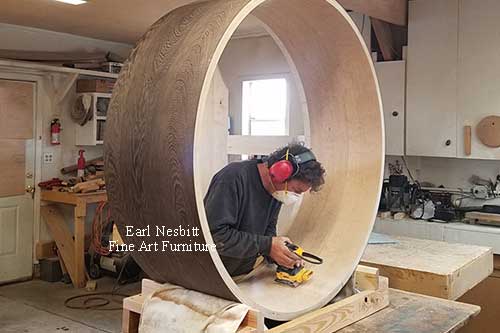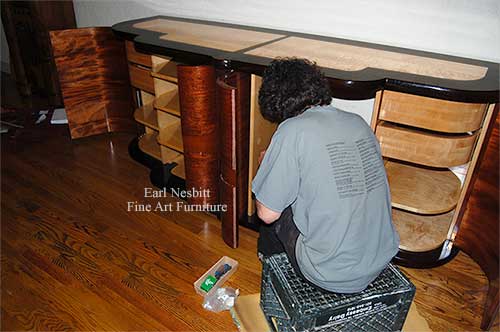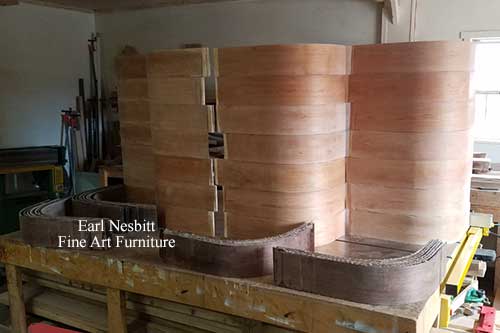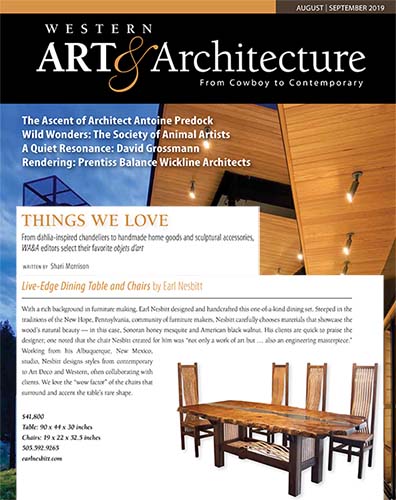 "His clients are quick to praise the designer; one noted that the chair Nesbitt created for him was "not only a work of art but … also an engineering masterpiece."
Western Art and Architecture, Things We Love, August/September 2019, page 65
Past Shows and Juried Exhibits
WestEdge Dallas 2022
Objects of Art Santa Fe 2022
Barrett-Jackson Collector Car Auction Scottsdale 2022
Objects of Art Santa Fe 2021
Barrett-Jackson Collector Car Auction Scottsdale 2020
Objects of Art Santa Fe 2019
Art Santa Fe 2019
Barrett-Jackson Collector Car Auction Scottsdale 2019
WestEdge Design Fair Santa Monica 2018
Objects Of Art Santa Fe 2018
Art Santa Fe 2018
Barrett-Jackson Collector Car Auction Palm Beach 2018
Barrett-Jackson Collector Car Auction Scottsdale 2018
Barrett-Jackson Collector Car Auction Las Vegas 2017
Barrett-Jackson Collector Car Auction Palm Beach 2017
Palm Beach Contemporary West Palm Beach 2017
Barrett-Jackson Collector Car Auction Scottsdale 2017
Barrett-Jackson Collector Car Auction Las Vegas 2016
Fort Worth Show of Antiques and Art 2016
Barrett-Jackson Collector Car Auction Scottsdale 2016
One Of A Kind Show And Sale Chicago 2015
Objects of Art Santa Fe 2015
New Mexico Arts and Crafts Fair 2015
One Of A Kind Show And Sale Chicago 2014
Western Design Conference Jackson 2014
Objects Of Art Santa Fe 2014
Weems International Artfest Albuquerque 2014
Albuquerque Home Expo 2014
Architectural Digest Home Design Show 2013
Scottsdale Art Festival 2013
Santa Fe Show Objects Of Art 2013
Weems International Artfest 2013
One Of A Kind Show And Sale Chicago 2013
Dwell On Design LA 2012
American Craft Council Show San Francisco 2012
One Of A Kind Show And Sale Chicago 2012
Weems International Artfest 2012
Santa Fe Show Objects Of Art 2012
Santa Fe Fiestas 2012
Architectural Digest Home Design Show 2012
Western Design Conference Jackson 2011
One Of A Kind Show And Sale Chicago 2011
American Craft Council Show Baltimore 2011