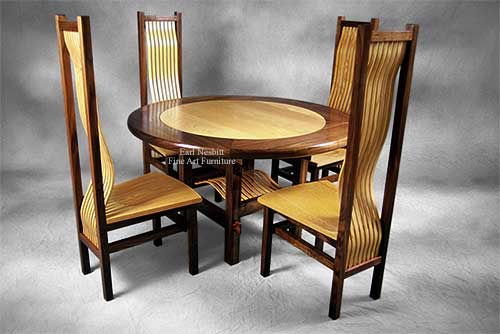 Round Dining Table
Round Dining Table
What Sets This Round Dining Table Apart —
This handcrafted round dining table is classic custom furniture. Hand fit pegged through tenon joinery in the base. Solid ash and walnut top. Ash bent laminate slats and bubinga pegs in the walnut base. This is top quality fine art furniture. Ash table has four solid walnut frame chairs with solid ash seats. Chairs are designed for great back support. Dimensions: round dining table 52" x 52" x 30" tall; chairs 21" x 19" x 51 1/2" tall. Hand-rubbed tung oil based finish. Original design with hand-carved signature on this fine art furniture by Earl Nesbitt. We ship worldwide. Earl always uses the highest quality materials and the finest craftsmanship to design and build each piece of custom furniture. Durability is of the utmost importance: this round dining table is built to last for generations.
Click here to see other fine art furniture designs by Earl that are ready to be shipped now.
He also enjoys the process of collaborating with a client on a piece of custom furniture. Call or email for a quote on your own round dining table or other piece of fine art furniture. Earl is honored that this is the fourth consecutive year he has received the "Best of Houzz" award for Customer Satisfaction. He always works very hard to meet or exceed his customer's expectations.