Call
(505-592-9265)
to buy Earl Nesbitt's fine art furniture
Click the photo below to see a larger popup image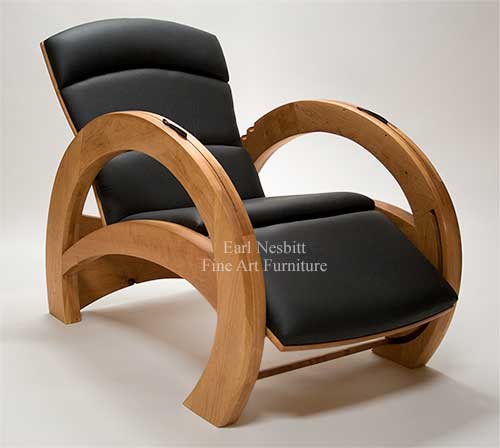 This recliner chair was designed and handcrafted by Earl Nesbitt. Solid cherry stacked laminate frame with black leather cushions. Arched armrests conceal recessed sprocket and cog configuration which manually engages adjustable footrest via leather straps, cross section of steel pipe and flexible steel cable. Adjustable back with similar sprocket and moveable wooden post. Dimensions: 72" x 29" x 50" tall. Hand rubbed tung oil based finish. Original design with hand carved signature by Earl Nesbitt. This is what the New Mexico client said about this recliner chair: "I was very fortunate to have Earl design and build my dream recliner! This piece is not only a work of art but it is also an engineering masterpiece. The craftsmanship is superior and working with Earl Nesbitt has been an absolute pleasure. Earl emailed me photos throughout the entire process and we collaborated on every detail of the project. The final result exceeded my every expectation. I highly recommend Earl for all custom made furniture projects." We sell Earl's fine art furniture exclusively online through this website and at juried shows throughout the United States. Our studio is open by appointment only. Call for hours. We ship Earl's custom made fine art furniture worldwide. Call or email for a quote on your own unique recliner chair or other piece of fine art furniture.
Click here to read Earl's biography and background as an artist.
Click the photo below to see a larger popup image.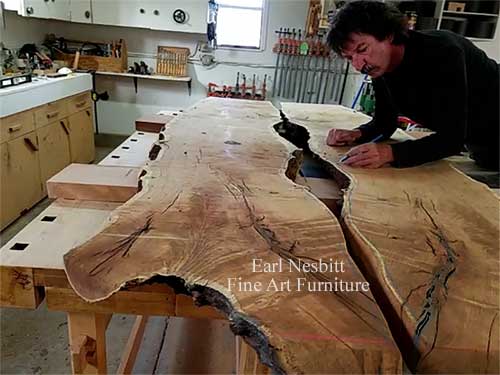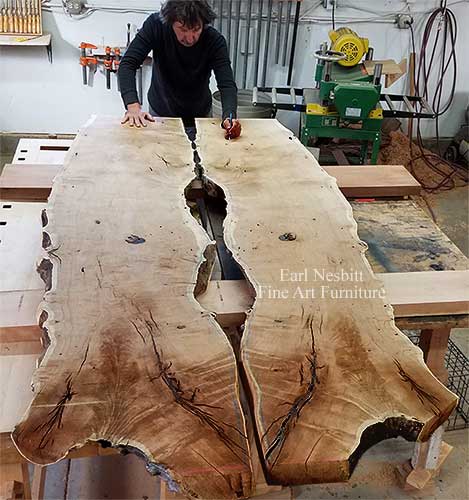 Click the photo above to watch Earl designing and building custom made furniture on YouTube