Call
(505-592-9265)
to buy Earl Nesbitt's fine art furniture
Click the photos below to see a larger popup image
This handmade nightstand was designed and built by Earl Nesbitt. The nightstand has a solid black wenge hand shaped drawer pull with purpleheart pegs. Highly figured solid mesquite top. Purpleheart pegs decorate hand sculpted mesquite legs. Hand fit mortise and tenon, through-tenon and dovetail joinery throughout. Dimensions: 19" x 27" x 27" tall. Original design with hand carved signature by Earl Nesbitt. This is what the Denver area client said about the nightstand with an iron pull: "The mesquite dresser and two nightstands that Earl Nesbitt made for me are wonderful custom made pieces! The wood continues to deepen in color, which Earl said would happen, and the pieces are always commented on when anyone new sees them. The workmanship is exceptional and I especially love the secret compartment he created for my jewelry. All the joinery is top of the line with great attention to detail. I love the designs of the pieces and enjoyed being part of that process. Earl listened to what I wanted and delivered. These pieces of art furniture will be part of my family for generations!" We sell Earl's fine art furniture exclusively online through this website and at juried shows throughout the United States. Our studio is open by appointment only. Call for hours. We ship Earl's custom made fine art furniture worldwide. Call or email for a quote on a handmade nightstand.
Click here to read Earl's biography and background as an artist.
Click the photo below to see a larger popup image.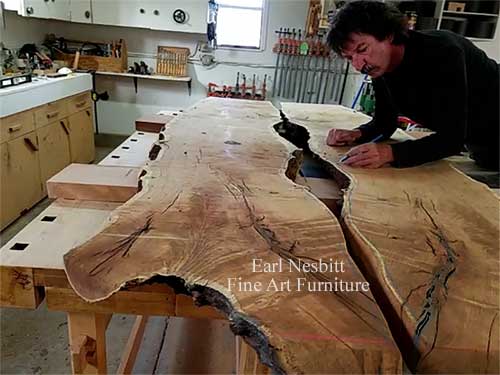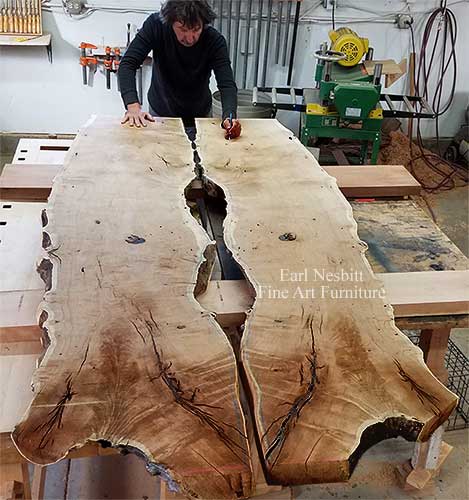 Click the photo above to watch Earl designing and building custom made furniture on YouTube