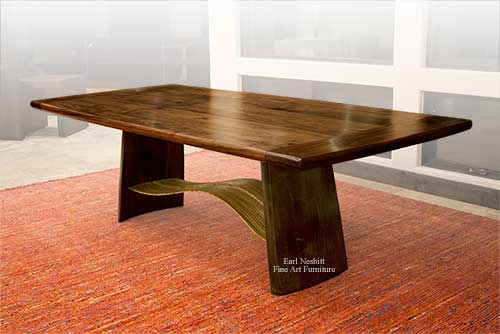 Dining Room Table
Dining Room Table
Dining Room Table
Dining Room Table
Dining Room Table
Dining Room Table
Dining Room Table
What Sets This Dining Room Table Apart —
This custom made dining room table has hand fit breadboard ends with a notched fork joint base, an exceptionally strong design technique. This is classic custom made dining room furniture. Solid walnut top. Hand pegged breadboard ends. Sculpted alder legs with wavy zebrawood slats. Hand rubbed tung oil based finish. Can be custom re-designed as a beautiful conference table. Dimensions: 96" x 44" x 30" tall. Seats 8 to 10. Original design with hand-carved signature on this dining room furniture by Earl Nesbitt. Can be shipped worldwide.
Click here to see photos of the matching dining room buffet.
Earl completed an apprenticeship designing and building dining room furniture and other fine furniture with a master craftsman in 1989 to 1990. Since then he has used his original designs with the highest quality materials and the finest craftsmanship to build functional sculpture like this dining room table or conference table.
Click here to see other dining room table designs by Earl that are ready to be shipped now.
He also enjoys the process of collaborating with a client on a custom piece. Call or email for a quote on your next conference table or dining room table.