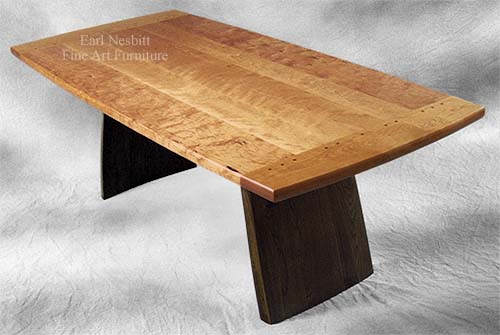 Custom Made Table
Custom Made Table
Custom Made Table
Custom Made Table
Custom Made Table
What Sets This Custom Made Table Apart —
This custom made table is designed and built with superior craftsmanship in the classic style. This cherry dining table will become a family heirloom. Solid cherry with a walnut base. Hand fit pegged through tenon breadboard ends on this custom made table. Hand-rubbed tung oil based finish. Dimensions: 82" x 42" x 30" tall. Original design with hand-carved signature on this custom made table by Earl Nesbitt. We ship worldwide. Earl completed a one year apprenticeship with a master craftsman in 1990. His custom furniture has been shown in galleries around the country and can be found in a wide variety of locations, from contemporary homes and businesses to western-style haciendas.
Click here to see other dining room table designs by Earl that are ready to be shipped now.
He also enjoys the process of collaborating with a client on a custom dining room table. Call or email for a quote on your own cherry dining table or custom made table.