Click Photo For Larger Image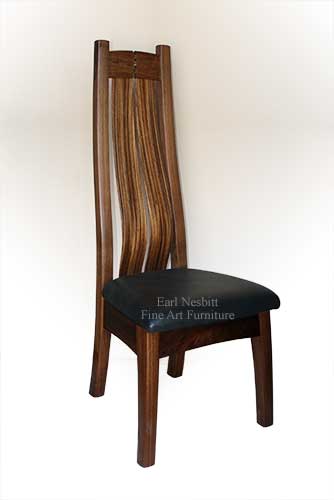 This custom made dining chair or office chair was designed by the furniture maker to give great back support. Solid walnut frame, zebrawood slats, black leather seat, and bubinga pegs in the crest rail. Hand fit mortise and tenon joinery throughout. This custom made dining chair or office chair will look handsome in many rooms and is comfortable for many uses. Hand-rubbed tung oil based finish. Dimensions: 22 1/2" x 18 1/2" x 49" tall. Original design with hand-carved signature by Earl Nesbitt. We ship worldwide. Earl has designed and built fine art furniture for almost 30 years. With each new piece he is constantly exploring new techniques to push the limits of solid wood design. Durability is of the utmost importance: this dining chair or office chair is built to last. This along with limited production insures the collectibility of the piece which has his hand-carved signature and is archived to authenticate his original designs and insure the customer's investment in the artwork.
Click here to see other designs by Earl that are ready to be shipped now.
He also enjoys the process of collaborating with a client on a custom made piece. Call or email for a quote on your own office chair or dining chair.