Call Earl Nesbitt now to buy a custom made bedroom dresser and nightstand at
(505-592-9265)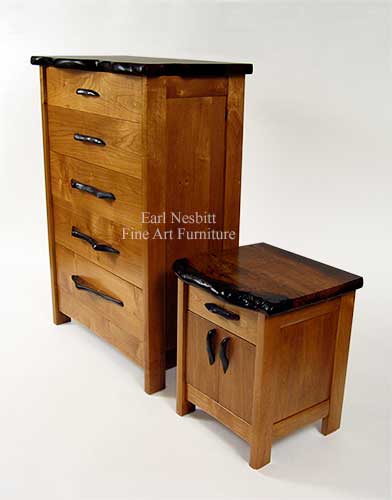 This bedroom dresser and nightstand set was custom made by Earl Nesbitt. Both have solid mesquite tops with hand sculpted edges and solid alder bases. Solid mesquite sculpted drawer pulls. Hand fit mortise and tenon joinery throughout. Drawers and doors. Adjustable shelves in nightstand. Hand rubbed tung oil based finish. Original design with hand carved signature by Earl Nesbitt. We ship this fine art furniture worldwide. Earl has designed and built custom made fine art furniture for 30 years. He uses traditional tools such as chisels, handsaws and hand planes, as well as modern power tools both large and small. He enjoys the challenges and wide variety of skills needed to create each bedroom dresser and nightstand he builds from sketching and finding the perfect board to sculpting and finishing as well as the connections made with both customers and vendors.
Click here to see other designs ready to ship now by Earl.
He also enjoys the process of collaborating with a client on a custom made piece. Call or email for a quote on your own bedroom dresser or nightstand.