Click Photos For Larger Images
This beautiful art deco cabinet is also a piece of custom made fine art furniture. Made of birdseye maple, bubinga, lacewood and wenge. Hand sculpted, curved design reveals molded features in front with two center pocket doors that retract and two outer doors that pivot outward. Curved drawers and adjustable shelves. Hand rubbed tung oil based finish. Dimensions: 94" x 33" x 35" tall. Original design with hand carved signature by Earl Nesbitt. We ship worldwide. After completing a one year apprenticeship with a master furniture maker in 1990 Earl began designing and building his own custom made fine art furniture. Today Earl combines his original designs with the highest quality materials and the finest craftsmanship to create one-of-a-kind pieces like this custom made art deco cabinet. With each piece Earl is constantly exploring new techniques to push the limits of solid wood design. Durability is of the utmost importance: this art deco cabinet is built to last for generations. This along with limited production insures the value of each piece which has Earl's hand-carved signature and is archived to authenticate his original designs and insure the customer's investment.
Click here to see other designs by Earl that are ready to be shipped now.
He also enjoys the process of collaborating with a client on a custom made piece. Call or email for a quote on your own art deco cabinet.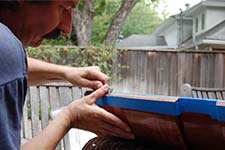 Click the photo above to watch Earl designing this custom made art deco cabinet on YouTube