Click Photos To Switch Images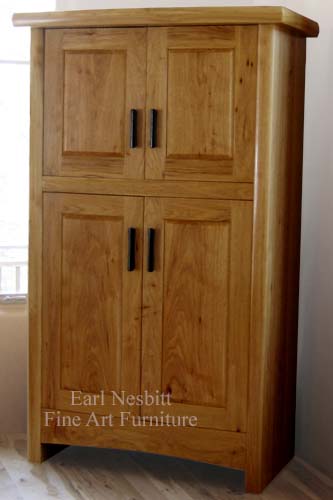 Media Cabinet
Media Cabinet
Media Cabinet
Media Cabinet
Media Cabinet
What Sets This Media Cabinet Apart —
Carefully handcrafted solid hickory cabinet is beautiful custom furniture made to suit your specific space and need requirements. This media cabinet has doors, drawers and adjustable shelves. Wenge pulls. Hand fit mortise and tenon joinery. Durable hand rubbed tung oil based finish. Original design with hand-carved signature on this hickory cabinet by Earl Nesbitt. Earl classically trained in a one year apprenticeship program designing and building custom furniture with a master craftsman in 1989 to 1990. Today Earl combines his original designs with the highest quality materials and the finest craftsmanship to create one-of-a-kind pieces of collectible custom furniture. Durability is of the utmost importance: this media cabinet is built to last for generations.
Click here to see other contemporary furniture designs by Earl that are ready to be shipped now.
He also enjoys the process of collaborating with a client on a custom piece. Call or email for a quote on your own media cabinet or hickory cabinet.