Call Earl Nesbitt now to buy a handmade wooden jewelry box at
(505-592-9265)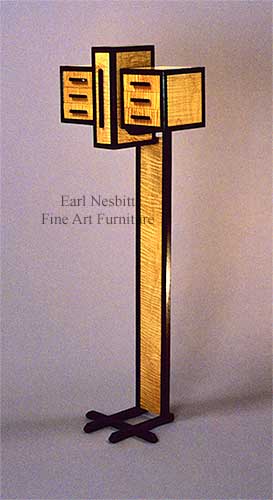 This handmade wooden jewelry box is beautiful fine art furniture designed and built entirely by Earl Nesbitt. The jewelry box is made from highly figured curly maple and wenge. Pleated velvet ring and earring holders in drawers. Middle drawer pulls out with notched pegs for necklaces and bracelets to hang. Three point mitre, notched fork joint joinery. Hand rubbed tung oil based finish. Dimensions: 18" x 11" x 49" tall. Original design with hand carved signature by Earl Nesbitt. We ship Earl's fine art furniture worldwide. Earl completed a one year apprenticeship with a master craftsman in 1990. Today he combines his original designs with the highest quality materials and the finest craftsmanship to create one-of-a-kind pieces like this handmade wooden jewelry box. With each piece he is constantly exploring new techniques to push the limits of solid wood design. Durability is of the utmost importance: this piece was built to last for generations.
Click here to see other designs by Earl that are ready to be shipped now.
He also enjoys the process of collaborating with a client on a custom made piece. Call or email for a quote on your own handmade wooden jewelry box or other piece of fine art furniture.