Click Photo For Larger Image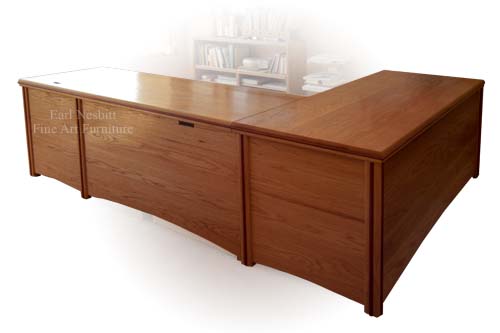 What Sets This Home Office Desk Apart
This home office desk is beautiful custom furniture made to be used and enjoyed. Solid red oak with bubinga inlay. Doors, drawers, and adjustable shelves. Hand-rubbed tung oil based finish. This solid wood desk can be built with a variety of customizations. Original design with hand-carved signature on this wood desk by Earl Nesbitt. We ship worldwide. Earl began his career in 1989 studying custom furniture design and construction in New Hope, Pennsylvania. That award-winning apprenticeship program with a master craftsman, as well as the rich history of furniture-making in the New Hope area, including George Nakashima and other artists, contributes to Earl's work as he showcases the beauty of natural wood in each piece like this home office desk.
Click here to see other fine art furniture designs by Earl that are ready to be shipped now.
He also enjoys the process of collaborating with a client on a piece of custom furniture. Call or email for a quote on your own home office desk or other type of solid wood desk.