Click Photo For Larger Image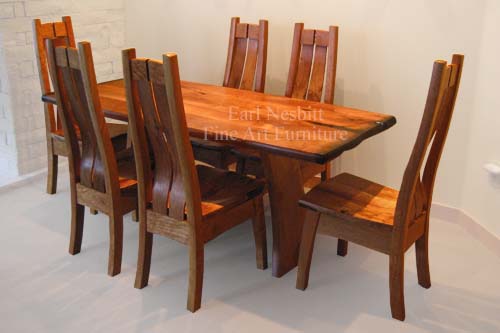 What Sets This Dining Table Set Apart
This handsome dining table set is flawless handcrafted wood furniture. Solid mesquite top and alder base. Six chairs have solid cherry frames with mesquite seats. Chairs also have mesquite slats and bubinga pegs. Hand-rubbed tung oil based finish. Original design with hand-carved signature on this handcrafted wood furniture by Earl Nesbitt. We ship worldwide. Earl completed a one year apprenticeship with a master furniture maker in 1990. Throughout his nearly 30 year career he has worked with home and business owners, interior designers, builders, architects, and galleries on many projects both large and small. He inventories and has access to a wide variety of woods, both domestic and exotic, including locally rescued wood, reclaimed lumber, and large slabs.
Click here to see other dining table set designs by Earl that are ready to be shipped now.
He also enjoys the process of collaborating with a client on a custom piece of handcrafted wood furniture. Call or email for a quote on your own dining table set.