Call Earl Nesbitt to buy a handmade dining room table at
(505-592-9265)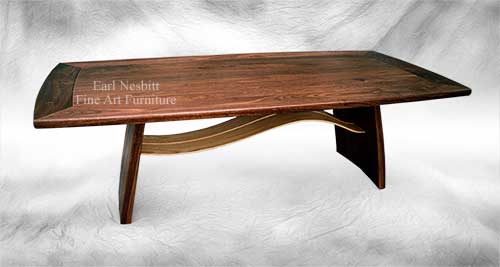 This handmade dining room table was designed and built entirely by Earl Nesbitt. The top and base are both solid walnut. There are ash bent laminate slats in the base and hand pegged tenons in the top. The notched fork joint base is an exceptionally strong design technique. Dimensions: 96" x 44" x 30" tall. Hand rubbed tung oil based finish. Original design with hand carved signature by Earl Nesbitt. We ship Earl's fine art furniture worldwide.
Click here to read what Earl's clients say about his work.
Earl completed a one year apprenticeship with a master furniture maker in 1990. Since then Earl has used his original designs with the highest quality materials and the finest craftsmanship to build fine art furniture.
Click here to see other designs by Earl that are ready to be shipped now.
Earl sells his furniture exclusively online through this website and at juried shows throughout the United States. He also enjoys the process of collaborating with a client on a custom made piece. Call or email for a quote on your own handmade dining room table.
Click above to watch Earl designing and building custom made furniture on YouTube