Click Photo For Larger Image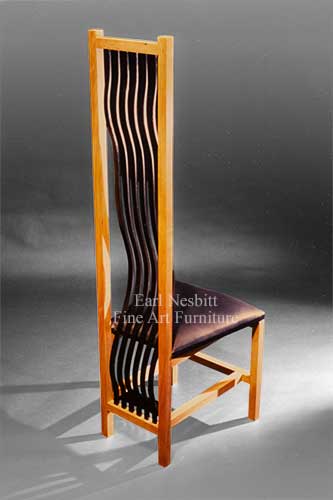 This custom made desk chair is beautiful and comfortable fine art furniture. Solid cherry frame, ebonized ash slats, and black leather upholstered seat. Hand fit mortise and tenon joinery throughout. Hand rubbed tung oil based finish. Custom designed by the maker to give great back support. Dimensions: 19" x 22" x 55" tall. Original design with hand carved signature by Earl Nesbitt. We ship worldwide. Earl completed a one year apprenticeship with a master craftsman from 1989 to 1990. Today he combines his original designs with the highest quality materials and the finest craftsmanship to create one-of-a-kind pieces of fine art furniture like this desk chair.
Click here to see other designs by Earl that are ready to be shipped now.
Earl also enjoys the process of collaborating with a client on a custom made piece. Call or email for a quote on your own custom made desk chair or other piece of fine art furniture.