Click Photos To Switch Images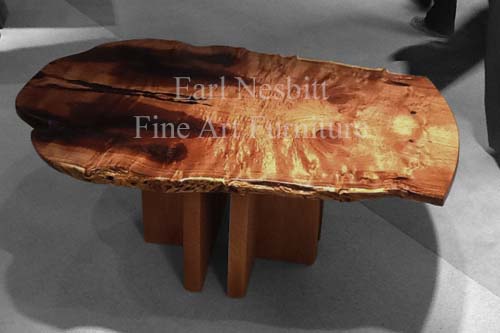 Coffee Table
Coffee Table
What Sets This Coffee Table Apart —
This unique live edge coffee table is classic custom furniture made from highly-figured mesquite. Sculpted alder legs. Hand rubbed tung oil based finish. Original design with hand-carved signature by Earl Nesbitt. Dimensions accent table: 48" x 29" x 18" tall. Price: $3,750. We have several different methods of shipping. Call for quotes. Sold safely through PayPal (click the PayPal link) or call our furniture store
(505-592-9265). We ship worldwide.
Earl has been designing and building custom furniture like this live edge coffee table since completing a one year apprenticeship with a master craftsman in 1989 to 1990. With each new piece, he is constantly exploring new techniques to push the limits of solid wood design. Durability is of the utmost importance: this accent table was built to last for generations. This along with limited production ensures the collectibility of each piece which has Earl's hand-carved signature and is archived to authenticate his original designs and ensure the customer's investment.
Click here to see other pieces of custom furniture by Earl that are ready to be shipped now.
He also enjoys the process of collaborating with a client. Call or email for a quote on your own accent table or live edge coffee table. Earl is honored that this is the fourth consecutive year he has received the "Best of Houzz" award for Customer Satisfaction. He always works very hard to meet or exceed his customer's expectations.