Call Earl Nesbitt now to buy custom made bathroom cabinets at
(505-592-9265)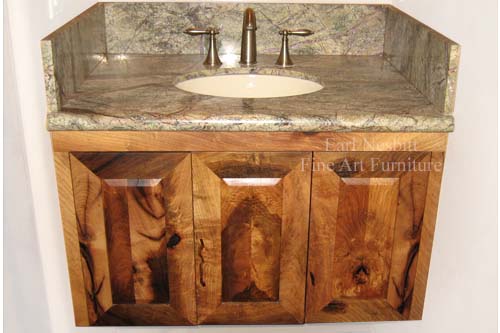 These bathroom cabinets are beautiful custom furniture built to last a lifetime. Highly figured mesquite doors. Pegged, adjustable shelves. Hand rubbed tung oil based finish. Original design with hand carved signature by Earl Nesbitt. We ship worldwide. Throughout Earl's career he has worked with home and business owners, interior designers, builders, architects and galleries on custom furniture designs for every room in the house. His work has included a wide variety of pieces from Park Avenue penthouse suite renovations, to pews at the Basilica of the Shrine of the Immaculate Conception in Washington, D.C., to circa 1700s home restorations, as well as many private and commercial designs. Durability is of the utmost importance: these bathroom cabinets are built to last.
Click here to see other designs by Earl that are ready to be shipped now.
He also enjoys the process of collaborating with a client on a piece of custom furniture. Call or email for a quote on your own bathroom cabinets.