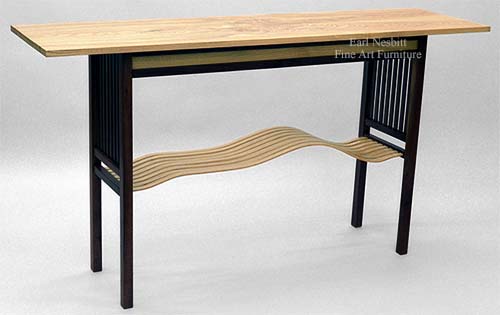 This stylish and unique accent table was designed and handmade entirely by Earl Nesbitt. The table has a solid ash top, walnut base, and ash bent laminate slats. Hand fit mortise and tenon joinery throughout. Dimensions: 58" x 16 1/2" x 35" tall. Hand rubbed tung oil based finish. Original design with hand carved signature by Earl Nesbitt. We ship Earl's fine art furniture worldwide. Earl completed a one year apprenticeship with a master craftsman in 1990. Today he combines his original designs with the highest quality materials and the finest craftsmanship to create one-of-a-kind pieces of collectible fine art furniture. He prides himself on his quality craftsmanship and innovative designs. Each piece is meticulously well crafted, and designed and built to last a lifetime.
Click here to see other designs by Earl that are ready to be shipped now.
He also enjoys the process of collaborating with a client on a custom made piece. Call or email for a quote on your own unique accent table or other piece of fine art furniture.