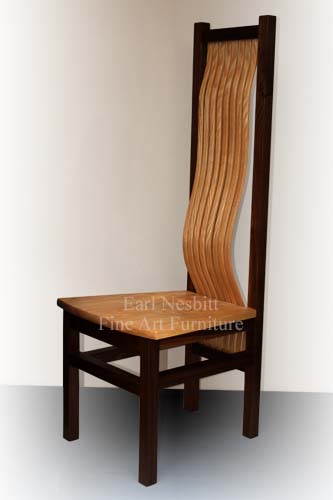 Accent Chair
Accent Chair
What Sets This Accent Chair Apart —
This custom made accent chair is classic fine art furniture in the prairie school style. Designed and built by Earl Nesbitt to offer great lower back support. Solid walnut frame and ash seat. Ash bent laminate slats. Hand fit mortise and tenon joinery throughout. Hand rubbed tung oil based finish. Dimensions: 19" x 22" x 52 1/2" tall. Price: $2,100. Original design with hand-carved signature on this custom made accent chair by Earl Nesbitt. We have several methods of shipping. Call for quotes. Sold through PayPal (click the PayPal link) or call Earl at
(505-592-9265)
. We ship worldwide. This accent chair was shown at Barrett-Jackson Collector Car Auction. Earl has been designing and building fine art furniture for almost 30 years. He began his career in 1989 studying fine furniture design and construction in New Hope, Pennsylvania. That award-winning apprenticeship program with a master craftsman, as well as the rich history of furniture-making in the New Hope area inspires Earl's work as he showcases the beauty of natural wood in each new piece. Durability is of the utmost importance: this custom made accent chair is an heirloom piece of furniture in the prairie school style. This along with limited production ensures the value of the artwork which has his hand-carved signature and is archived to authenticate his original design and ensure the customer's investment.
Click here to see other fine art furniture designs by Earl that are ready to be shipped now.
He also enjoys the process of collaborating with a client on a custom piece. Call or email for a quote on your own custom made accent chair or other piece of fine art furniture.